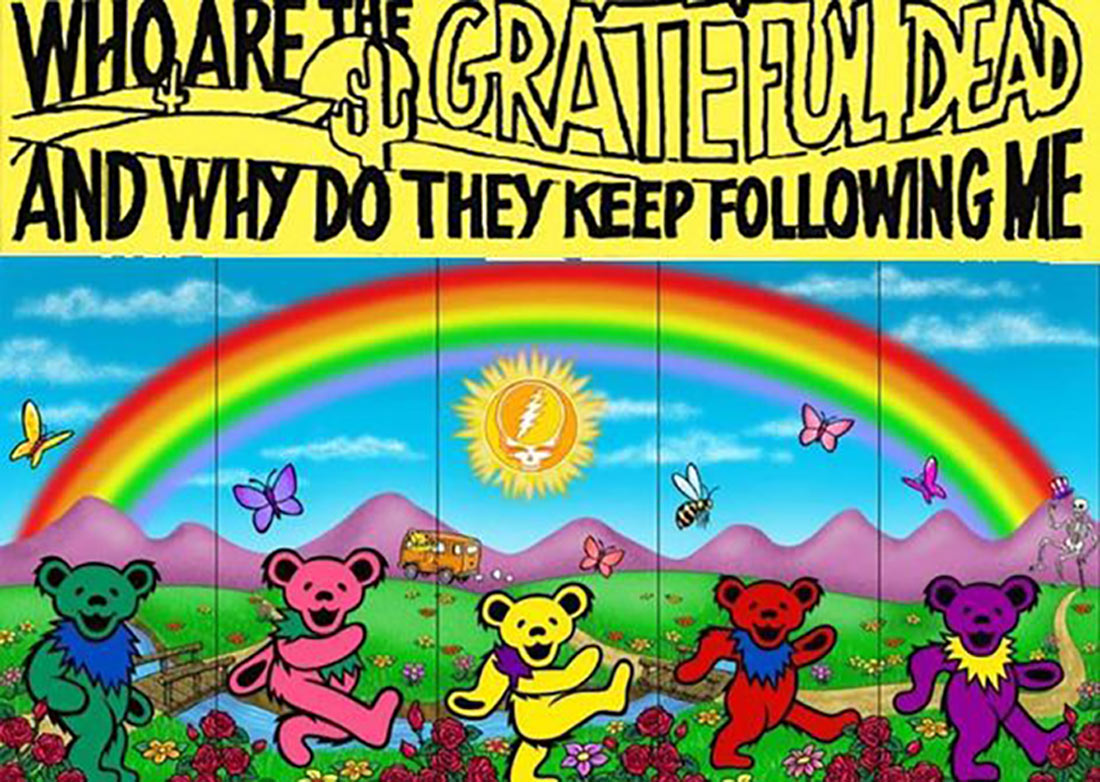 29 Aug

Grateful Dead ~ "Sometimes we live no particular way but our own"

I turned 21 on July 26, 1992 at our family beach house in Longport, New Jersey, a small coastal town about 7 miles south of Atlantic City. My 21st birthday did not by ANY means mark the first time I sipped alcohol.  At the age of 18 I was savvy enough to procure a fool-proof Pennsylvania driver's license that my older sister, by three years, Marlena sold to me for $300 with my picture and her information.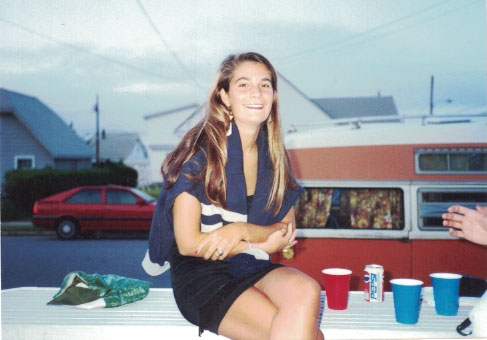 My Dad marked my 21st birthday by buying me a little black dress from the Margate store, Suzie Boots and a ½ keg of Rolling Rock beer.  On the night of my birthday Marlena surprised me and drove up in her 1973 Bubble Top Volkswagen Micro Bus. Her orange bus with its trippy flower curtains in orange and brown hues and hammock was not a normal site in the upper crust beach town of Longport, where BMWs and Mercedes reigned supreme. Marlena had just come from a Grateful Dead show wearing a long and flowy tie dye skirt and messy hair. Her lover in the passenger seat looked like a shirtless and barefoot Jesus with a tie dye sarong wrapped around his thin waist. As if the feathers and crystals all over the dashboard and the Stealie (a pervasive Dead symbol, skull with lightning bolt) bumper sticker in the rear didn't give it away, they were clearly hippies and I was a preppy J Crew rich kid. What happened to Marlena? I wondered.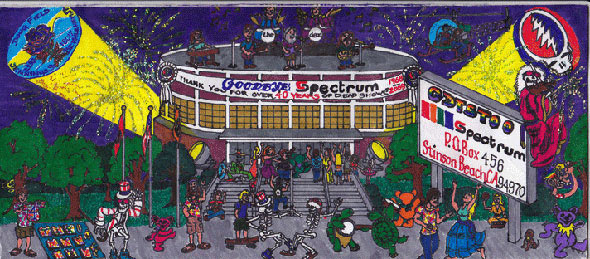 Marlena was touring regularly with the Grateful Dead in the late 80's and early 90's. Year after year the Dead played almost 80-90 shows (Deadheads don't call them concerts) to massive sold out crowds. It was geographically easy on the East Coast to see the band live; 3 shows at the now defunct Philadelphia Spectrum, 6 nights at Madison Square Garden followed by 6 additional nights at Boston Garden was the norm. The Dead toured at a frenetic pace and their fans never missed a beat and followed them with unlimited devotion.
Combined with her ingenuity and sales skills, Marlena was able to afford her hippie lifestyle by selling $20 lyric books, veggie "kind" burritos, and grilled cheese sandwiches in the parking lot, earning enough money to get to the next show in her groovy bus down the hippie highway.
My sister influenced me to check out the scene when the Dead played the Philadelphia Spectrum in 1988 (The Dead played the most shows in history at this venue, 53 total). "Where will I meet you?" I asked her. She exclaimed "look for the tallest orange bus in the lot, you can't miss it" The lot, aka Shakedown Street, is a term affectionately used by Heads to describe the lively festival-like parking lot scene that breathes itself into each city the Dead plays. It's basically a tailgating caravan for Dead Heads with a pulsating beat of drums and tons of Dead swag and memorabilia. There are pins, patches, stickers, hand-made jewelry, crystals, sarongs, wall hangings, unofficial tour shirts emblazoned with roses, skeletons and dancing bears. Oh, and it's pretty easy to find pot, party favors and "hippie crack," or nitrous oxide, to enhance your show experience.
The lot was, and is, the ultimate pre-party; an extension of the music that felt like a family affair, and I instantly became part of that family. At a recent Dead & Co show I went to in June, I had jello shots and mojitos with fresh mint made by Heads looking to support their next show. I could easily spend days on the lot until thoughts of my children would pull me back to reality.
In January I saw the premier of the Long Strange Trip at the Sundance Film Festival, the Grateful Dead documentary directed by Amir Bar-Lev and executive produced by Martin Scorsese. Just shy of four hours, the film touches on the band's 1965 birth in Palo Alto as the house band for novelist Ken Kesey's (One Flew Over the Cuckoo's Nest) Kool-Aid acid test parties. LSD was legal until 1966 and used in the psychiatric field when Rob Hunter (original lyricist for the Dead) and Kesey were part of paid CIA funded experiments to test the effects of LSD. The Sandoz Laboratory-manufactured LSD "somehow" (I say that chucking) made its way to Kesey who distributed it to takers at his infamous parties in Northern California.
The Grateful Dead supplied the music and the party rolled on in a free form way. Lead guitarist and vocalist for the band Jerry Garcia reflected "the acid test was the prototype for our whole basic trip."
"Many have reflected on the uncanny parallels between the structure of a Dead Show- especially the second set, moving from structure (the songs) to fertile chaos (DRUMS and SPACE), and back to form – and the LSD journey. "We were improvising cosmically," said Garcia, recalling the Acid Tests."   Skeleton Key: A Dictionary for Deadheads, by David Shenk & Steve Silberman
Long Strange Trip shows incredible on-stage and off-stage footage of the bands 30- year career marked with bittersweet interviews with Garcia. The movie got me thinking… love them, hate them or are too young to care, the Grateful Dead have led an extraordinary career unlike any other artists in the history of rock and roll. They never conformed to radio or studio play, commercial success, record or CD sales. Hell, they encouraged their fans to record their shows on tape (yes, they actually had a taper's section behind the soundboard) and the tapes were traded and passed around on the open market for free. Ask any fan and they will enthusiastically declare their favorite bootlegged cassette by date and set list.
Yet, the Grateful Dead founded an extraordinary movement of American culture and music on their own terms. Tantamount to the Dead are their live concert performances. Drawing from over 400 songs, the Dead have played over 2,300 concerts and never the same show twice. NEVER. If you went to 8 shows in 10 nights you would never have the same experience. They didn't play regurgitated studio music; instead they played what they felt and they played the crowd, and that collaboration between the fans and the band was magnetic and authentic. Concerts were a multi-sensory experience of lights, incredible sound, and the feelings of collective consciousness lubricated by mind altering drugs. If you like raves you may find yourself feeling at home at a Dead show, ensconced in psychedelic laser and lights, sensual free-flowing dance, and the seamless flow of rhythm.
The DIY nature of the band was cemented early on with the start of fan clubs and newsletters. Tickets to shows were made available first to fan club members and then to the general public. The band formed their own ticket sales (GDTS/ Grateful Dead Ticket Sales) with an office in San Rafael (now Stinson Beach) that handled mail order ticket requests on a first-come, first served basis with no service fees. By 1993 their little home office was mailing out a half million tickets a year. Die- hard fans would adorn their envelopes (size 10 envelope required) with Dead iconography in hopes of attracting attention and having better results getting tickets to their requested show dates. This envelope art took on a life of its own with hundreds of thousands collected and archived at UC Santa Cruz McHenry Library.
Sticking to their roots for the Fare Thee Well reunion tour at Soldier Field in 2015, the GDTS office received over 70,000 mail order ticket requests before opening tickets up to the general public. Only one in ten requests were fulfilled and 81 million dollars in money orders were returned with rejection letters to bummed-out fans. During the 3-day sell-out performances in Chicago, the Field Museum displayed their jaw dropping , colorful envelope art along with Dead artifacts like Jerry Garcia's favorite guitar, "Tiger."
Once upon a time, legendary Grateful Dead promoter Bill Graham, who had a 26-year-long relationship with the band, welcomed fans to a 1978 NYE Dead show at his venue Winterland in San Francisco. Graham's concert hall was slated to be knocked down by a wrecking ball the next day. On that final night, Graham hung a sign on the side of his building that read:
"They're not the best at what they do—they're the only ones that do what they do."
Decades ago I asked my sister Marlena why she had to see so many Dead shows. Get a life! Why not go to one show, instead of four shows in one week? Why are you traveling all over the country for a fucking band? My judgement of her didn't change a thing and I'm glad she didn't listen to the naysayers. She exclaimed "This IS my life" with genuine positivity and smiles that I had to oblige.
Around the time I followed my heart to Utah, Marlena followed hers to hippie heaven in Santa Cruz. She spent 20 years living amongst like-minded free spirits and Dead fans, going to Farmer's Markets, eating organic food, and making her own kimchi before the rest of us even knew what that was—even co-running what became a national brand of health food products that can proudly claim was served to Jerry Garcia.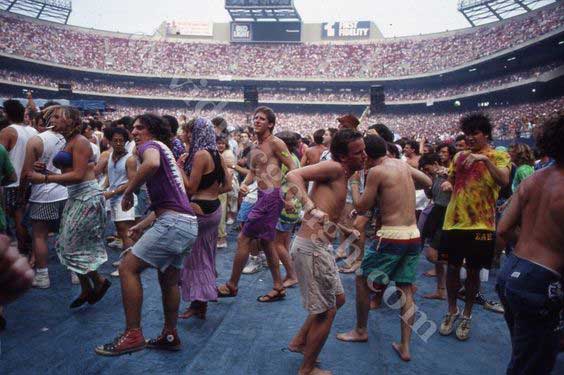 The original lineup of the band died when Jerry passed in 1995 but their spirit is alive in the music and countless fans: doctors, lawyers, teachers, moms and dads, and even a U.S. Senator from Minnesota (Al Franken). I finally realized I had it all wrong, back in those days when I criticized my sister and questioned her choices. Every moment of every experience from every show I have the opportunity to attend makes me feel more connected to community, love and freedom, and is worth taking every chance I get.
Thank you, Marlena, for letting me join you on your hippie highway and for showing me there is light in the strangest of places. Thank you for being the ultimate cool sis and letting me in on your secret.
Epilogue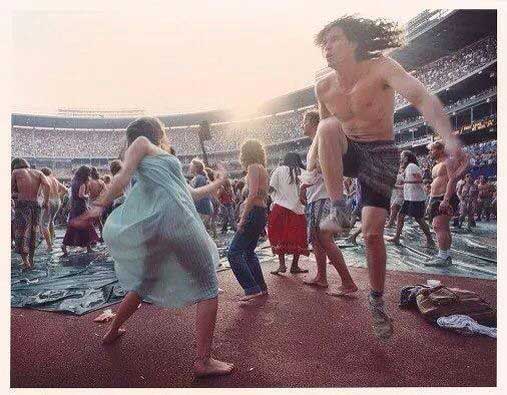 Marlena moved to Australia two years ago in pursuit of Krishna Consciousness and love. She recently married her husband Xavier, whom she met at a Rainbow Gathering, at the Santa Cruz Lighthouse. She's still humming Dead tunes.
When she lived in Santa Cruz her orange V.W. Bus was impounded by the city for various "violations," and sadly, she was unable to retrieve her long-time travel companion before it was crushed.
Dead and Company, featuring 3 original Dead members, Weir, Hart, and Kreutzmann along with John Mayer just wrapped up their second summer tour which was sold out from coast to coast.
AND THE MUSIC NEVER STOPPED