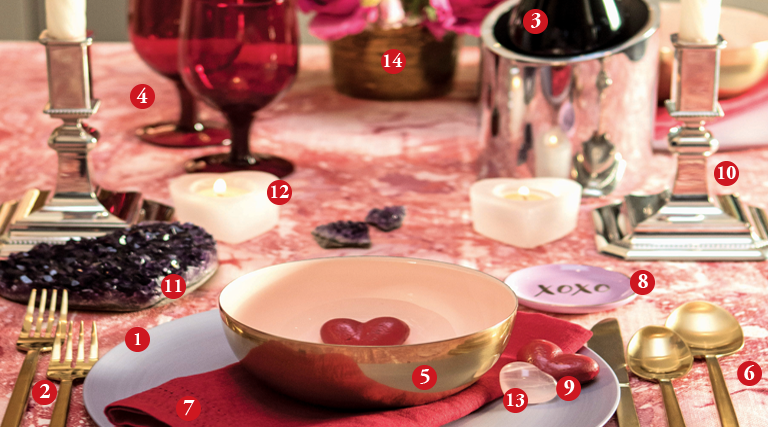 08 Feb

Setting the Mood for Valentine's Day: A Splendid Table
A Table Set With Love
Originally published in Devour Magazine, February 2018
---
Is the idea of sitting elbow to elbow at a restaurant with your sweetheart not what you had in mind on Valentine's Day? Are reservations at your favorite restaurant impossible to get? Do you have young children in tow and can't find a sitter? Well, I feel you, and that's why I prefer to celebrate Valentine's Day at home with takeout Thai food and a bottle of prosecco. But that's not to say I don't make it count—just the opposite.
Every year, I set the stage with a table scene that would make Frida Kahlo swoon. No matter if I am preparing my own meal from scratch or ordering takeout, I create a tablescape to convey the idea that it's going to be a very special night. And that includes cloth napkins, mood-setting candles, sparkly glassware and not-your-everyday dishware. My table-setting advice is to always be courting.
Whether you're celebrating a marriage, partnership or friendship, now is the time to drop the ordinary and set the scene for an extraordinary night. Turn it up a notch or two. A visit to the Glass House (3910 S. Highland Drive, 801-666-8968, GlassHouseSLC.com) could provide just the inspiration you need.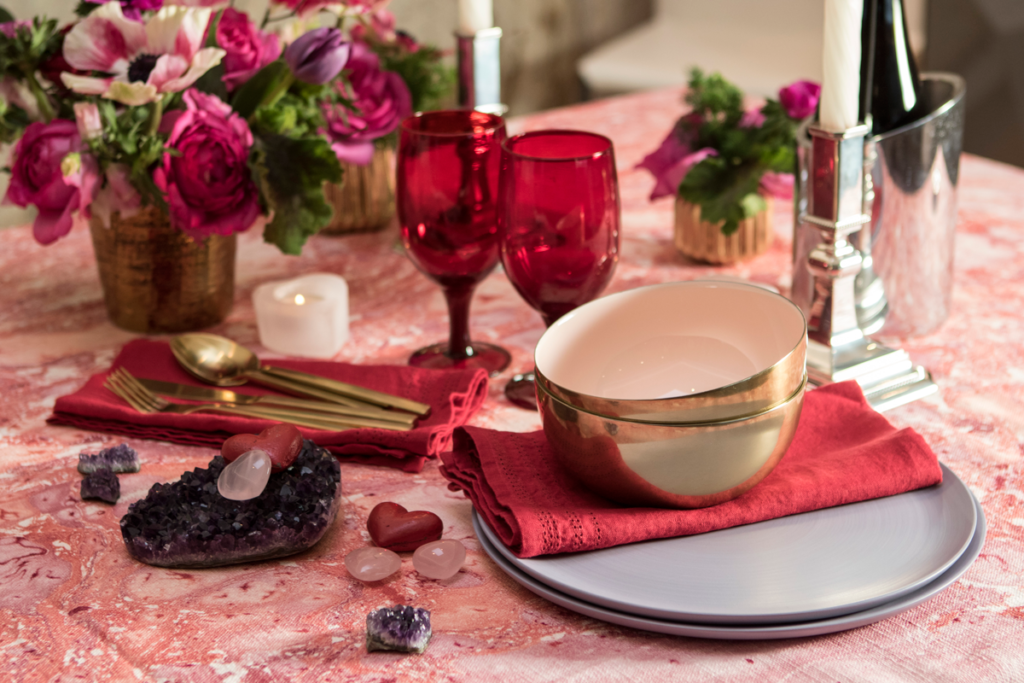 1. Rina Menardi lavender dinner plate: $68
Each of these unique handmade stoneware plates is individually signed. Made in Italy and measuring approximately 11¼ inches, they present a clean, simple and organic design. The pastel purple sets a sentimental foundation for the table. Available in various colors and sizes.
2. Brushed gold flatware: $59
Gold flatware is perfect for elegant occasions. It's bold, regal and evocative of luxury, compassion and love. Made of anodized stainless steel by Fortessa, this set is commercial grade and dishwasher safe. A five-piece place setting includes a teaspoon, dessert spoon, salad fork, table fork and table knife.
3. Nambé tilt wine chiller: $100
Have you been holding onto a rare vintage bottle of wine or Champagne? Don't hold back—now's the time to pop the cork. The mid-century modern design of this wine chiller is as timeless as it is practical because of its superb temperature retention. Nambé has been making award-winning alloy serveware and home décor items since the 1950s. Whatever your personal style is, this piece transcends all design proclivities—high or low, chic or antique, glamorous or understated.
4. Ruby goblets: $10
This stemmed glassware by Fortessa comes in vibrant ruby red and is versatile for water or wine.
5. Rose and gold bowl: $24
An enameled aluminum, gold-colored bowl is finished with a contrasting light pink interior. Measures 6 inches across by 2 3/4 inches high.
6. Gold Leaf Design Group fabric: $175
This marbleized pink-and-red 100-percent-cotton fabric is truly a statement piece.
7. Eyelet cloth napkins: $58
Valentine's Day is not a paper-towel occasion. Elevate each setting with these crimson organic cotton napkins by Coyuchi. Set of four.
The Little Things
8. xoxo jewelry dish $7.50
9. Iron red heart $8
10. Banded bead candle holders: $176 per pair
Pewter plated 7-inch holders from Reed & Barton are based on a classic early 18th-century form.
Del Mar 100 percent dripless candles: $10.95
New Orientation
1400 Foothill Drive, SLC 
801-582-4462, NewOrientation.com
Crystals
Many decorate their homes with crystals and stones simply for the sake of appearance. However, Mother Earth's gifts are believed to help the body and mind achieve healing and mindfulness, and the staff at Turiya's will help you select the perfect pieces.
11. Heart amethyst quartz: Starting at $175
Amethyst is February's birthstone, one said to protect and purifiy the mind of negative thoughts. This stone imparts a soothing energy and aids in communication. Raw amethyst $7
12. Selenite heart tea light candle holders: $11 each
Selenite is a calming stone that instills deep peace, removes energy blocks and enhances the energy flow.
13. Rose quartz hearts: $5-$100
This hallmark stone for Valentine's Day is referred to as the "stone of love." It sends out vibrations of unconditional love, peace, warmth and compassion. Available in various sizes and shapes.
Turiya's
1569 S. 1100 East, SLC
801-531-7823, Turiyas.com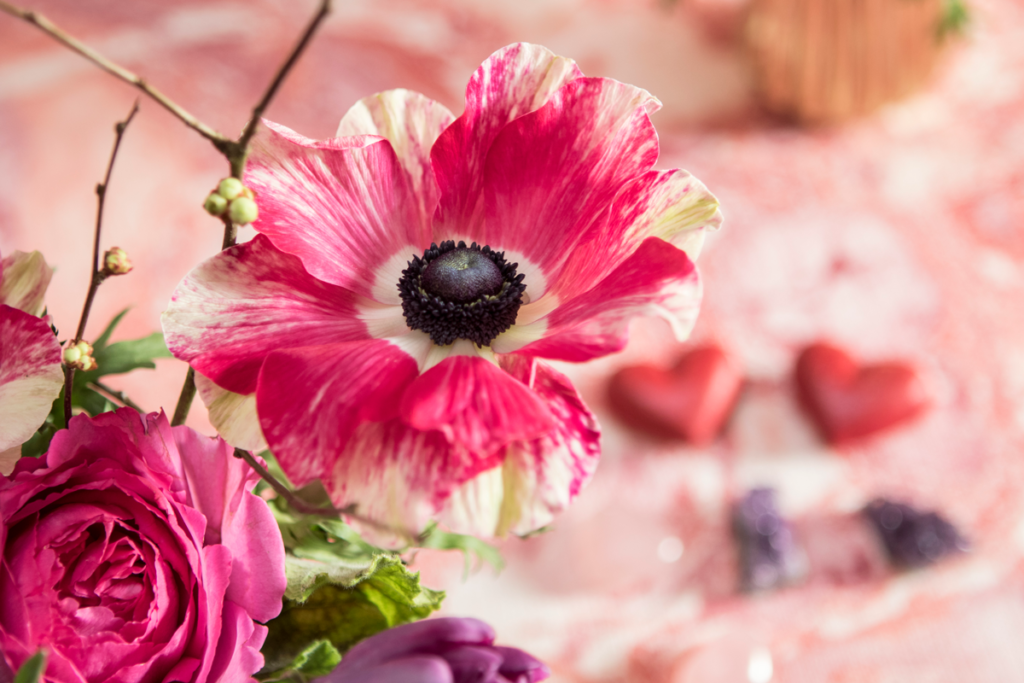 14. Floral arrangement: Bud vases starting at $18
A gold vessel holds garden roses, rare anemones, spray roses, geranium leaves, camellia leaves, ming fern and quince branches. Inspired by vintage Chinese posters.
Orchid Dynasty
959 S. 900 East, SLC
801-583-4754, OrchidDynasty.com