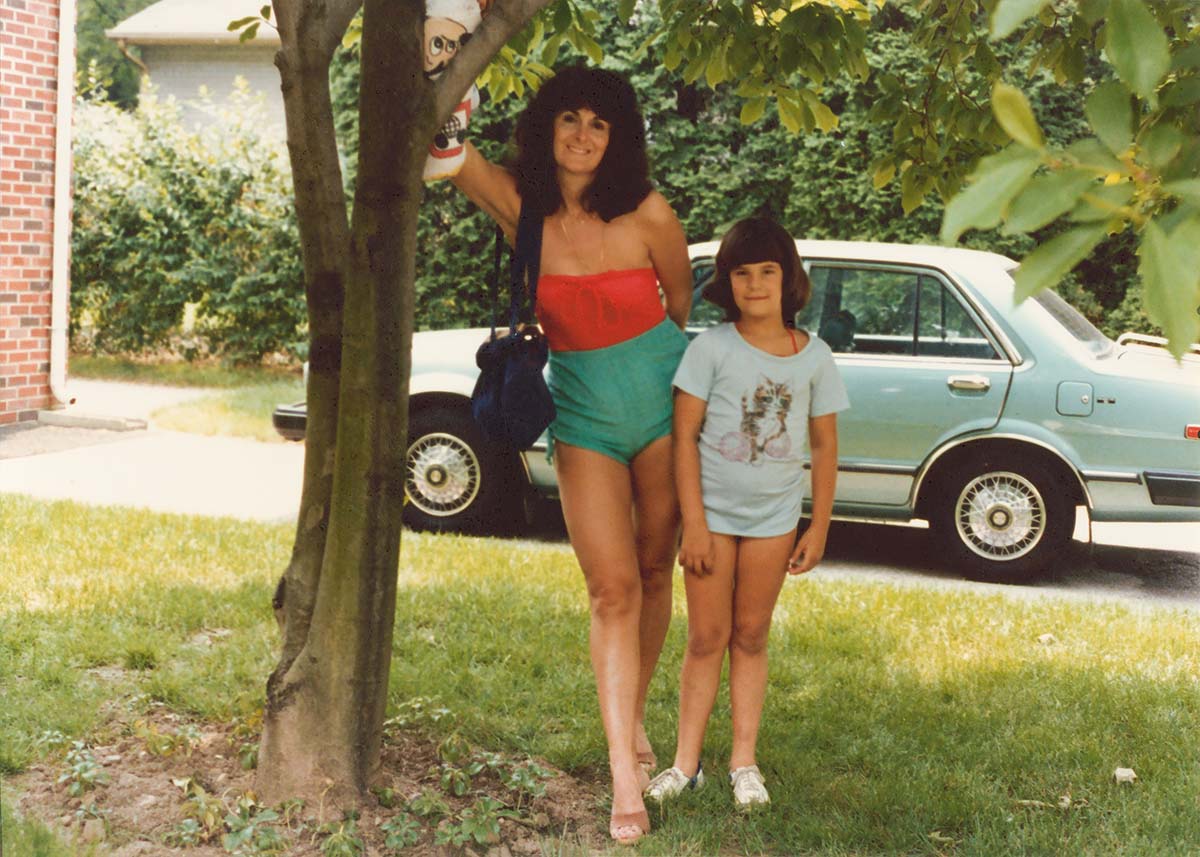 09 Nov

Mama, Can You See Me? Restoring the Motherline
"It is the image in the mind that links us to our lost treasures; but it is the loss that shapes the image, gathers the flowers, weaves the garland" ~ Colette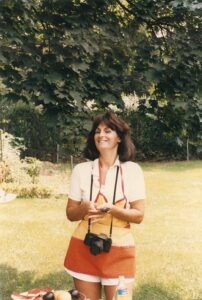 Sometimes, when I'm really listening, I hear the sound of my mom's voice calling my name from the distant past. I picture her tilting her head back with her chin to the air, her beautiful long chestnut colored hair framing her face and letting out a breathy laugh. I see my mom wearing her red apron tied around her slender waist and standing in her familiar spot next to the kitchen counter. I smell her Charlie perfume and hear Donna Summer's MacArthur Park playing from the speakers of our record player. Her loss has become my legacy because I am a motherless daughter.
My mom Rosemarie died of leukemia when I was 15 years old. She left behind my father, my older sister by three years and my brother, who was the tender age of four. I was too young to fully comprehend the weight and implications of her death and I felt utterly alone because I knew no girls my age who experienced mother loss. I let my deepest feelings go unprocessed and presented to the world, as close as I could resemble, a picture of perfection.  I believed that if I looked good on the outside everyone would think I was whole on the inside. In my 20's ad 30's I built a façade of career success, fierce independence and control. Because I could not control my mother's sickness and subsequent death, I tried to orchestrate every outcome around me, a common characteristic of motherless daughters. My success was my declaration to everyone (even myself) that I was ok, and my overachieving satisfied my lack of self- esteem brought on by being unmoored by her loss.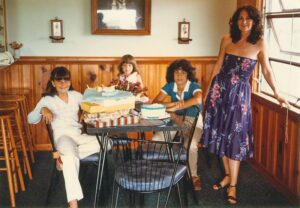 My mother was the glue of the family, the consummate hostess, our north star and the gatherer of family. She was the kind of mom that surprised me at school to share cream cheese cherry tarts with my class and the teachers. The mom that painted a lion above my record player and let me play my 45's as loud as I wanted. She toiled in the garden with her mother, my Grandmother Adalgisa, and cooked delicious homemade meals using simple ingredients. My mom, who on her deathbed wrote notes outlining the details for my sweet 16 birthday party, a party that never happened.  I treasure those faded notes she left behind detailing, in her calligraphy- like penmanship, menu ideas, guest lists and flower arrangements of pink carnations and baby's breath.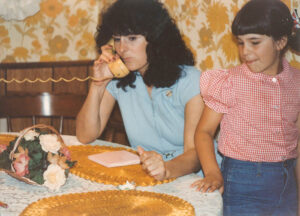 When I was pregnant with my first son I had so many doubts about being a mom. I thought, I haven't been mothered, so how can I mother my child?  There were so many unanswered questions that I had and still have. Author Hope Edelman in her book Motherless Daughters explains, "Without knowledge of her own experiences, and their relationship to her mothers', a daughter is snipped from the female cord that connects generations of women in her family, the feminine line of descent called the "Motherline". It's as if all of the sacred lessons passed down from mother to daughter vanished with my mom's death, all the things you can't learn from a book.
I raised my first son with knowledge coming from my gut and core values, and with faded memories of how my mom raised me. When I lived past the milestone of the tender age my mother's death, 44 years old, I breathed a sigh of relief, grateful that I survived past her age but painfully knowing I hadn't yet healed the multitude of grief that still remained.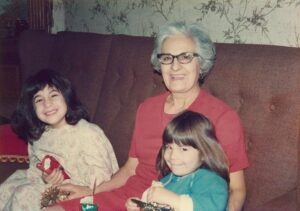 Throughout my adolescence I watched my mom and grandmother tend to our home and family. Without complaint or resentment, my grandmother made her daily drive to our home to wash windows, press clothes, shine shoes, make beds and cultivate the garden. With the afternoon closing in and dinner simmering in the pan, the end of their work day was near and they finally sat down at the kitchen table to rest, mom and daughter. Together they shared coffee and pastries from our local Italian bakery and sometimes on hot August days my Grandmom popped open a Rolling Rock. In the sun filled kitchen with the sheets hanging to dry on the clothesline, I witnessed the silent fluid exchange of women passing generational knowledge to one another;  recipes shared, gossip exchanged, traditions passed down from ancestors.  Always at the centerpiece between the two generations was the hearth, the stove. There was something deeper going on, more than just meal prep. All of their toils and emotions flowed into the food and those on the receiving end reaped the energy of these wise women. The hearth, when illuminated represents the symbolic vessel of womanhood, the source of life and love.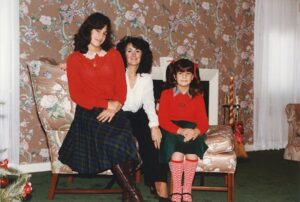 I have a second son now, I'm nearing a half century of life and I've learned that the search for mother love begins with loving oneself. On my mom's mass card from her funeral my father chose a fortuitous quote from her diary— "I hope my children will know the meaning of love, it begins with loving oneself." I've blankly stared at this card for decades totally unable to relate to this sentiment. I thought self- love was a selfish act but now the woman inside me knows this is where the healing is. Healing is the capacity to mother oneself, not to be more perfect. Loving oneself is the closest thing to mother love, and when we begin to let go of the past, external expectations and accept ourselves, we can learn to love ourselves unconditionally, as a mother loves her child.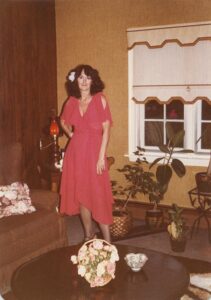 In making sense of my past and drawing on conscious and subconscious memories of my mom and Grandmom I too have been called to use the hearth as a vessel for my own identity. Cooking has reconnected me to my mom and in a way to myself. My way of honoring my mom and Grandmom is to grow a garden, cut and arrange fresh flowers and to prepare meals for my children and husband. By celebrating my ancestors I am validating myself, the ultimate expression of self- love. My mom's death was truly the most profound and determining event in my life and the pain of her loss continues to echo in my life.  But through cooking I have gained my identity and written my own narrative, my Motherline.  I have come home to myself and, if only for a moment, I have healed.
Grandmom's Italian Zucchini Recipe
Ingredients:
High grade Italian extra virgin olive oil, about two tablespoons
one red onion, chopped
two zucchini
one yellow squash
one cup cherry tomatoes
2 farm fresh eggs, beaten
small bunch Italian parsley, chopped
Basil, about two tablespoons, chopped
Parmigiano Reggiano, grated
Heat olive oil in saute pan and add onions. Saute for about 4 minutes over medium heat until onions are translucent and soft.
Peel the skin from zucchini and squash with vegetable peeler in stripes, leaving some of the skin on. Chop into half inch cubes and add to onion mixture.
Let the veggies simmer for about 5 minutes on high heat. Lower heat and place lid on pan part way with a little air coming through the lid. Simmer on low for about 20 minutes, stirring every five minutes. Add water if there is not enough moisture so as not to burn the bottom of the mixture.
Return to high heat and beat two eggs in bowl. Pour eggs over veggies and stir until eggs are absorbed. Let cook for two minutes.
Turn off heat, cut the cherry tomatoes in half and add to veggies with chopped basil and parsley. Let sit for a few minutes and serve.
Add cheese and salt and pepper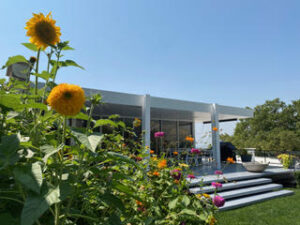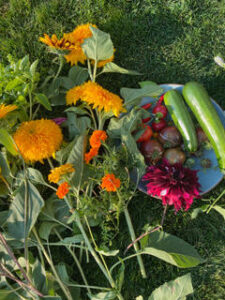 Open the windows and feel the fresh air cleanse your home. Put on my playlist and take a vacation back to the 70's and 80's. It's time to cook a simple meal with a recipe handed down from my Mom Rosemarie and my Grandmother Adalgisa Matteo.
Bella Vita,
Christa
*this article originally published in the second edition of Folding Chair Magazine, 2021