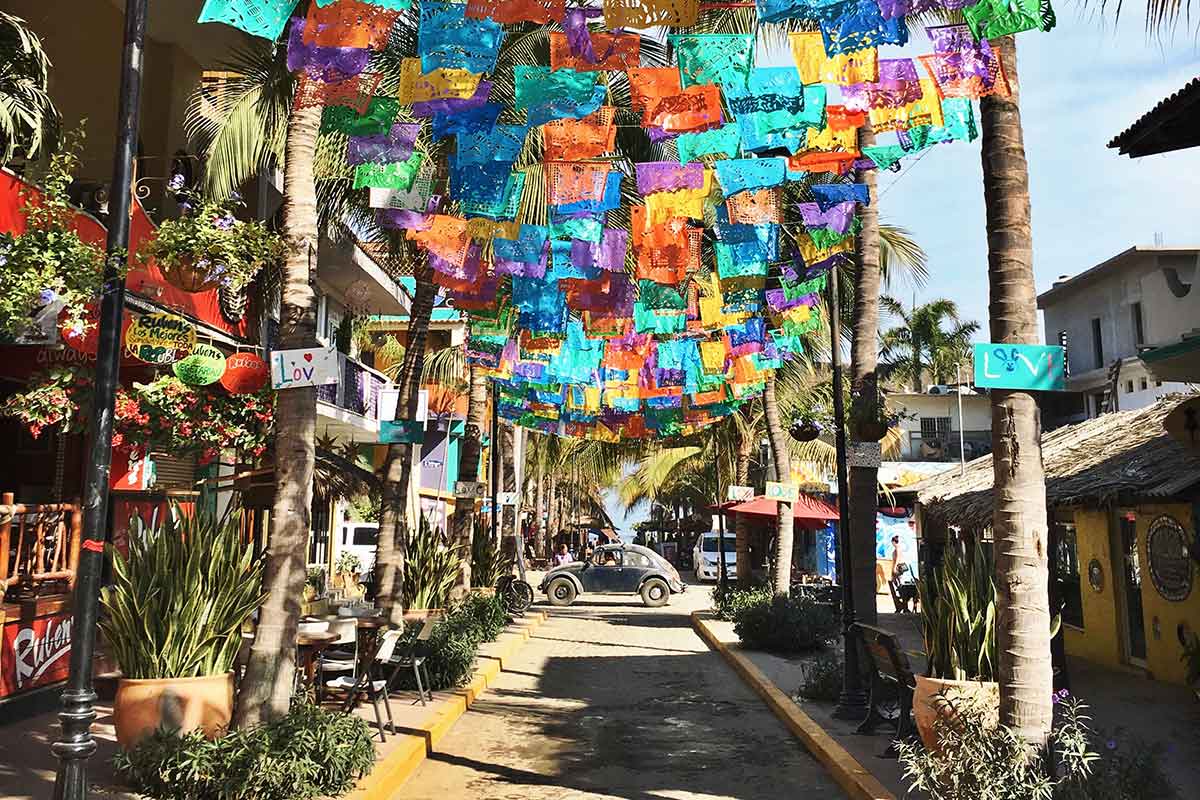 04 May

GypSea Forever: Sayulita Travel Guide

Every May for several years, my lover who later became my husband, and I traveled to Thailand for a heat-seeking tropical vacation in Phuket. We stayed at a small boutique hotel called The Chedi.  Every morning we relished eating fresh mangos, coconuts and drinking Thai iced coffee laced with cardamom. For lunch we walked to Surin Beach for shrimp Pad Thai cooked in beach shacks typically operated by two family members. These little huts miraculously served 5-6 page menus filled with fresh local recipes and ingredients. I still wonder how a tiny hut with a palapa roof and a sand floor managed to cook the most delicious Thai food I have ever eaten.

Every night we walked next door for cocktails at the breath-taking Amanpuri, the famed 5- star hotel frequented by Kate Moss, Brad and Angelina, and Leo. Gazing out at the emerald blue Andaman Sea surrounded by coconut palm trees in an open air Ayutthayan-designed bar, I drank my first mojito, made with Fidel Castro's favorite Cuban rum, Havana Club. Our Thai bartender pronounced the "j" in mojito like you would pronounce the "J" in Derek Jeter–mo- geet- o. My first "mogeeto" was stellar, with lots of unrefined turbinado sugar, light rum, tart lime and a sugarcane garnish.

Our 2004 honeymoon in Thailand was the last time we visited. The subsequent tragic tsunami in December of that year, which literally swallowed up the lower bungalows of The Chedi–including "our" teak beachfront bungalow we always stayed in, spooked us, and we haven't been back since.

Fast forward to 2006 and we found ourselves in Puerto Vallarta, Mexico and not too excited about the touristy destination we picked.  From my perspective at that time, living in Utah and vacationing in Mexico was like living in Philadelphia and vacationing on the Jersey Shore. Both great beach destinations, but compared to some of our other destinations, lacking in the unknown and exotic.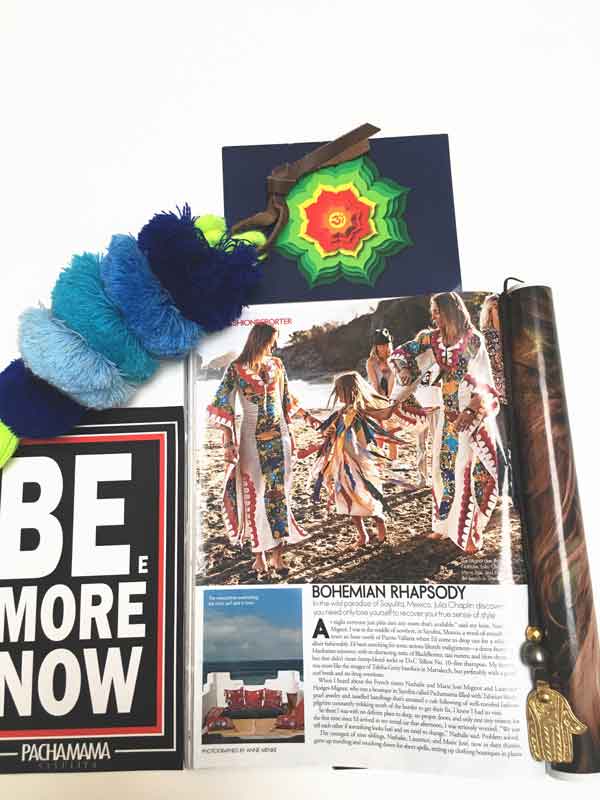 On the plane ride I read a story called "Bohemian Rhapsody," by contributor Julia Chaplin, in the May 2006 issue of Elle magazine.  I knew from Chaplin's description of a magical bohemian town called Sayulita, and a hippie chic store called Pachamama at its epicenter, that I HAD to visit. (Note: this article was so sacred to me that I saved it- I must have known it would become a special place for me.) I exhaled and dog eared the pages and fantasized about my visit.  My inner voice laughed at the ridiculous notion of visiting a tiny fishing town in the middle of nowhere. Sayulita was a word of mouth town, and I knew not a single soul who had visited. Hell, it wasn't yet on Google's radar, even if I could have looked it up from my Motorola Razr flip phone.
One day we rented a car and my husband asked a local where he enjoyed taking his family. Ironically, that stranger gave us a hand-drawn map to Chaplin's bohemian nirvana, which we followed for our first visit to Sayulita. We drove into a town on road through a lush green tropical jungle. The trees were so big, their limbs formed a canopy from both sides of the road, like a rainbow.
In town, we walked dirt and cobble roads to the beach alongside roosters and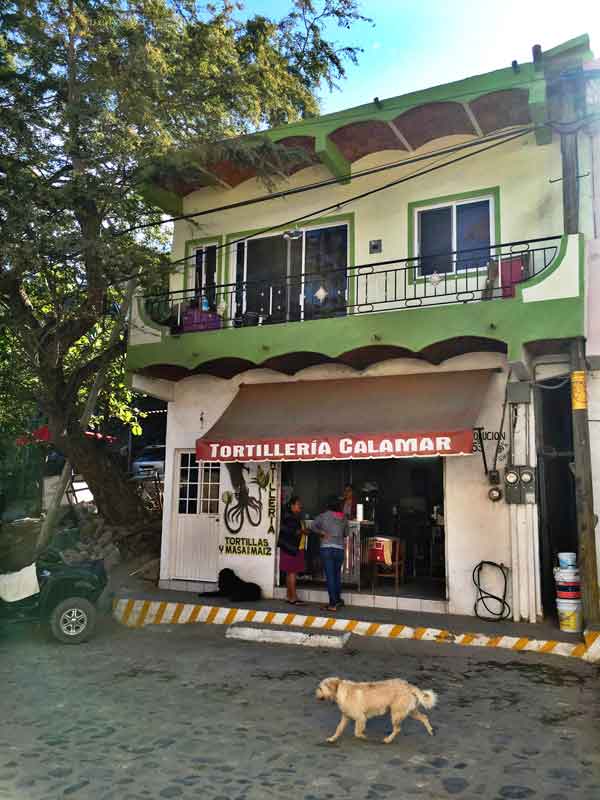 friendly street dogs. There was only a handful of restaurants (Don Pedro's), bodegas and taquerias to choose from. We found our way to a groovy coffee shop right on the beach (which is now El Break) and I decided to take a surf lesson.  I stood up on my board for one solitary second and got bloodied on my chest from a fall on rocks and shells.  I shrugged it off and decided my cuts added to my hippie adventure.
At Pachamama I bought as many tie die sarongs and Tahitian pearl and leather necklaces as I had pesos for. My surf teacher recommended a French restaurant for dinner with a wink and a nod. We miraculously stumbled upon the restaurant, but were dubious about eating French food in the middle of nowhere Mexico. But this "nowhere" restaurant had linens on the tables, candlelight, vases of fresh cut bougainvillea and the food was authentically prepared by a legitimate French chef. (Sadly, this restaurant later closed.) Halfway through our meal, and unbeknownst to us, my winking surf coach showed up with his girlfriend, dressed in a wizard outfit, with a guitar slung on his back. The four of us drank mojitos under the stars and listened to his sexy Brazilian guitar playing, accompanied by her lyrical sambas. I took a cigarette break behind the restaurant with my coach, and when he lit my cigarette, he leaned in to kiss me. I laughed about it, winked back at him and we finished our cigarettes together. My husband and I left our new friends with a promise to go back to enchanting and mystical Sayulita. And yes, I told my husband about the kiss. He's not surprised that sometimes I get myself into extraordinary situations, one of the reasons he adores me.
My family and I just returned from Sayulita, which now has a population of 4,000 and a fast growing stream of day trippers from Puerto Vallarta. There is magic to be found all over the town in the spirit of the locals, the artistry of the makers and shop owners, and the abundance of colorful native tribal patterns and art. The sound of music can always be heard reverberating throughout the town like a heartbeat. My favorite scene is when the sun is just starting to set from my outdoor jungle shower in all its unique splendor (Sayulita is known for colorful sunsets). Every night, I heard beating drums in the distance like a beckoning call, a physical reminder of the spirit of Sayulita.
On my recent visit in March I felt the town was more congested than I have known it to be. I recognize this little town does not have the infrastructure that Americans are accustomed to, like public bathrooms, reliable running water, consistent trash pick- up, public trash cans, recycling, or even a properly-working sewage system. The streets and jungle roads are dusty from new construction. The sounds of roosters and birds are being replaced by jackhammers, and there are now over 120 restaurants and days and days-worth of shopping that even I couldn't manage to fit in. The town has a crazy, chaotic way about it, enmeshed by a real sense of freedom. For example, sometimes the power will go out, bathroom faucets don't work and bathrooms are not always available. If you want to be pampered with five- star service in the lap of luxury, then this place is not for you. No need to pack stilettos, designer clothing or expectations of champagne served beach side in a glistening silver bucket. This is a laid back town, so bring your sense of OM and adventure.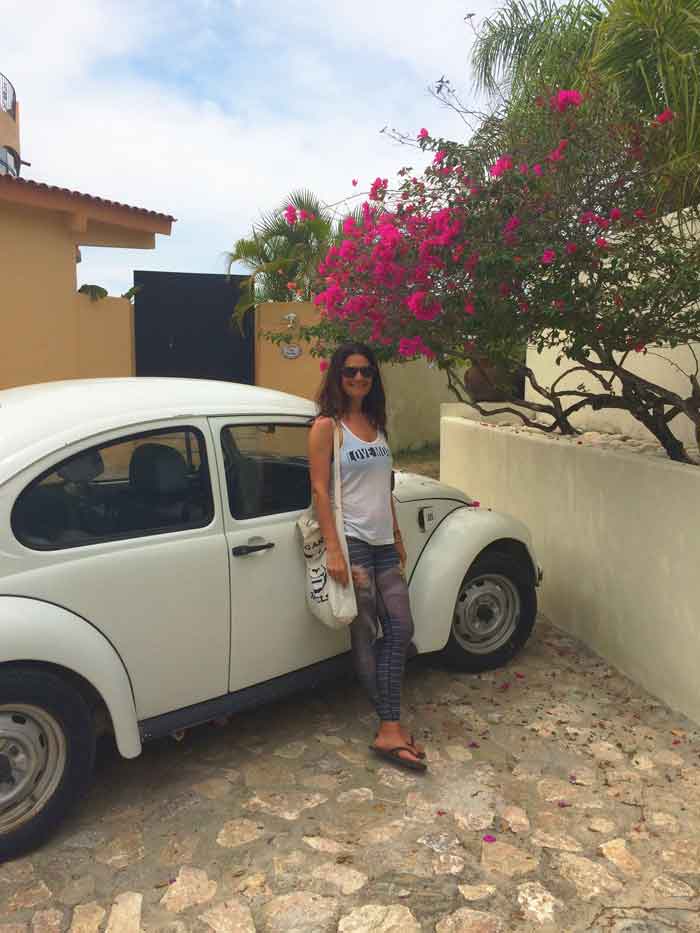 In 2015 Sayulita was designated a "Pueblos Magicos," or Magic Town. That means the Mexican government recognizes the unique beauty of the community and its local artisans to the extent that the town was granted funding for modernization. How is that manifesting for Sayulita? On my last visit, they were working on a new road into town. Will modernization bring even more people to this once sleepy fishing and surfing town? And should you still visit? Hell yes! But go now before it gets even bigger. I've shopped and eaten my way through Sayulita year after year so you don't have to sweat about where to go. Grab your margarita from El Break, put on your sarong, relax into love and let your inner gypsy shine. You are right where you need to be, trust me.
---
EATS:
Ino – Av. Revolucion n. 39 (across from Rustica Pizza). Italian food with a vegetarian slant, owned and operated by New York drop-outs Kent and Alessandra Prosperi (she was a former dancer with modernist Martha Graham Dance Company in NYC++ how cool is that). My kids love the margherita pizza. This is a standout in a very crowded restaurant scene.
ChocoBanana– Av. Delfin 14, next to the plaza. ChocoBanana started selling chocolate dipped bananas from a cooler on the beach in the early 90's. It has grown to be the heart of Sayulita with colorful vendors right next to the restaurant making it quite a lively scene and a little touristy, but who cares. It's a "must eat" breakfast spot for kids as are the famous milkshakes. My favorite is the green goddess smoothie made with cactus. They also have a stand-up window for coffee and homemade baked goods.  The restaurant is one of the first to ban straws, lids, and Styrofoam recognizing the dangers to sea turtles and the need for conservation.
La Esperanza– Jose Mariscal N. 12C.  I'm a vegetarian and this IS my favorite place in town for healthy and conscientious food any time of day. Vegan and gluten-free options abound. Smoothies and juices, breakfast quinoa bowls, organic salads and gluten free buckwheat pancakes. Omnivores, don't fret! They serve organic eggs, seafood and meat sourced locally.  My fav = craft cocktails made with fresh squeezed organic juices. Nightly music, soothing ambiance and interior mural celebrating the bounty of the feminine. Look for the brightly colored mural on the exterior welcoming you to real food without pretention.
Panino's Bakery– Delfines 1. A few hundred yards away from the beach, this is a lovely European style coffee shop/bakery with views of the ocean and palm trees. It's tiny but their chocolate croissants are big in flavor and as good as any I've tasted in Paris. No wonder because the owners are French. Fresh bread, muffins, scones, deli sandwiches and super strong coffee (beans locally sourced from Oaxaca). They have a walk –up counter one block away, across from the Iguana tree and a new location in Bucerias.
Ruben's –Delfines 44, In between the plaza and the beach. I've eaten in deli meccas NY, LA, and Philly and Ruben's deli stands with the best of them. The owner, Ruben, used to manage a well- known LA diner for 25 years. Thankfully for us, he's back in his home country serving wraps, deli sandwiches, tuna melts, burgers (my kids tell me it's perfect), and the best hand-cut and salted French fries. Ruben's is a nice break from Mexican food, open until 8 pm, and great people watching too!
Orangy El Juice Bar – Jose Mariscal #33. Because ya gotta detox to retox! Healthy liquid breakfast; fruit and veggie juices and smoothies, and protein bowls all made to order. Named after a town about 15 minutes south of Sayulita is the "Litibu" Smoothie- orange, mango, strawberry and banana. My go-to juice is Perry Hill: carrot, celery, parsley, pineapple, ginger and lime.  Served by a friendly staff with big smiles, but the prep time might test your patience. A little reminder to slow down and take it all in and who really cares when the vibes are real and the smoothies cost 40 pesos— that's $2 folks! The same drink in my hood costs $9.
El Break Cafe – Calle Delfines. Casual beachside café for breakfast, lunch and dinner, also doubles as a popular beach bar à la toes in the sand. I'm not embarrassed to admit I come here every day when I visit for the "usual suspects" – margaritas, chips, salsa and guacamole. For lunch: healthy rice bowls topped with shrimp, bagel sandwiches, killer nachos, and seafood shooters. Excellent cocktails using fresh juices.
*Tuna Blanca– Located in Punta de Mita, about a 30- minute drive south of Sayulita. If you do only one thing in the sleepy gated community of PM, eat at this visually-stunning restaurant. Beach chic décor, vibrant blue pillows and stemware, incredible professional service.  Over-the-top gourmet Mexican (and slightly French) with organic influences. Standouts are the pumpkin and prawn soup (25 years on the menu), marinated octopus with mushroom gratin, and for dessert the "Flowerpot," a chocolate mousse dessert served in a pot with real chocolate crumbles for "dirt" and chocolate crunchies for the rocks. An edible flower grows out of the pot!  Impressive in its imaginative whimsy as well as flavor.
---
SHOPS: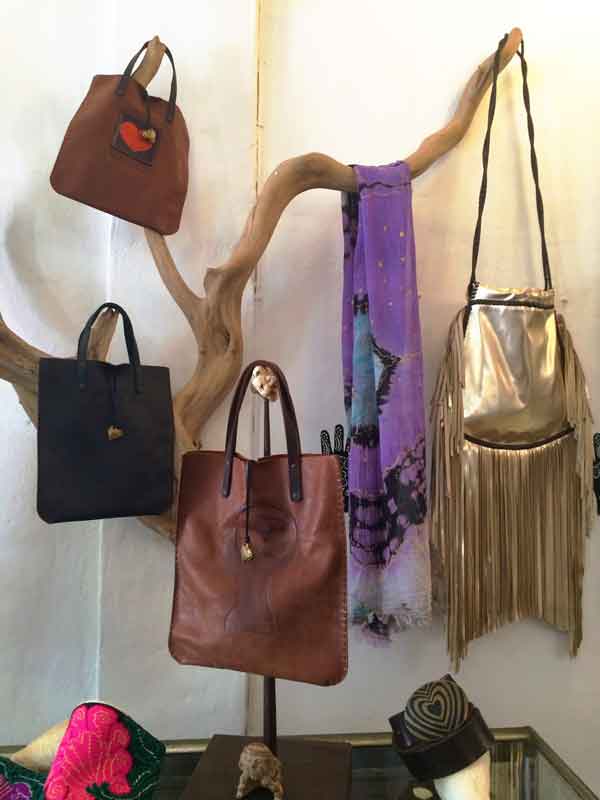 Pachamama– Delfines #9. The mecca for all things gypset (a portmanteau of jet set + gypsy) owned by French bohemian Mignot sisters.  Pachamama, meaning mother earth, named after a goddess revered by the indigenous people of the Andes, has a well- deserved cult following. Hippie chic tasseled leather hand bags, hand-embroidered Huichol cross body bags with vibrant pink hearts, black Tahitian pearl and leather necklaces, earthy turquoise bracelets, and sexy signature tie-dye cover-ups —each one dyed and hand painted by a Brazilian artist. Adjoining gallery featuring local art, photographs, posters and dream catchers. Follow the magical path strung with brightly colored dream catchers adorned with feathers and shells to the grooviest store on earth. This is haute hippie heaven. You too can live like a gypsy by renting a room above the boutique in their guest house called Casa Love.
Rosemary Collective– on the plaza next to ChocoBanana. Handmade beach clothes, hats, bags and jewelry. Standouts are the hand-painted
and embroidered baseball hats (made by Edgar) and original photography of Sayulita seascapes
digitally printed on silky smooth T's, tanks and dresses.
Ula Boutique–  Marlin 8a. This vibrant corner shop owned by two sisters, Paola and Antonieta Lopez, oozes beach chic style.  Sundry brand cover ups, made in Mexico leather feather satchels in every color of the rainbow, quintessentially Sayulita pompoms, locally made bikinis and traditional Huichol-inspired wedding dresses and tunics reimagined for modern times.
PALU Art for your Heart– Manuel Navarrete. A newcomer to the shopping scene. Uber talented friends Anne Luna and illustrator Paulina Gutierrez collaborate to bring an indoor/outdoor art-filled zen experience. Original and affordable paintings, bowls, tiles and beach stones adorned with whimsical mermaids, tropical flowers, om signs, and hearts will brighten up any space. Follow them on Instagram @paluartforyourheart
Révolucion Del Sueño– 55 Calle Manuel Navarrete. HOLA! A cheeky boutique with pop culture influences worthy of worship. Parisian owners Nico and Lea create kick ass designs by repurposing traditional Mexican imagery on T's, pillows, posters and postcards.  Think Pancho Villa-turned-hipster holding a road bike, smoking a cigarette. Shirts that say "Welcome to My Barrio" and "Hola Vibes Only."  You will be blinded (in a good way) by so many bright embroidered pillows, beach bags, clutches and pompoms. A new endeavor is Amano Project, serving up 100% locally handmade jean jackets with Huichol and Otomi embroidery, beach bags, and more, with a modern and chic twist. These clothes will take you in style from NYC to the Palm Springs desert.  Las Bayadas is their Mexican beach blankets line, and these are definitely not your mother's beach towels. Take them to Coachella or a Dead show and you will be sitting pretty.  I seriously have bought so many things from Révolucion Del Sueño my home looks like their showroom floor. Everything is made in limited quantities making it in demand, so if you have trouble buying their products, you can just knock on my door and see what I have in my bona fide display gallery.
Artefakto– Delfin #15. A dream of a store for interior designers and like-minded folk.  Pillow shams, wall art, pottery, vessels,table linens, and hand woven wool rugs.  Otomi (indigenous Spanish) embroidered pillows from Hidalgo reign supreme— inspired by nature, plants and animals the Otomi use bright colors and strong defining patterns. Some pillows are framed with little pompoms. Impossible to resist! I bought 6 in every color for my pool lounge area.
Laughing Jaguar-  53 Avenida Revolucion, a bit removed from the center but not to be missed.  Owner Bella Ochoa welcomes you into her dream with a kaleidoscope of colors representing the best in Mexican folk art.  Hand embroidered bags from Chiapas, dream catchers from Oaxaca, yarn painted skulls by the Huichol tribe, insanely detailed wood carvings from Oaxaca that can take hundreds of hours to produce, one of a kind dog collars made by women in Guadalajara and the most refined versions of the Ojo de Dios or the Eye of God. This store captures the spirit and beauty of Mexican artisanship at its best. My little boys really loved this store—they have great taste, just like momma!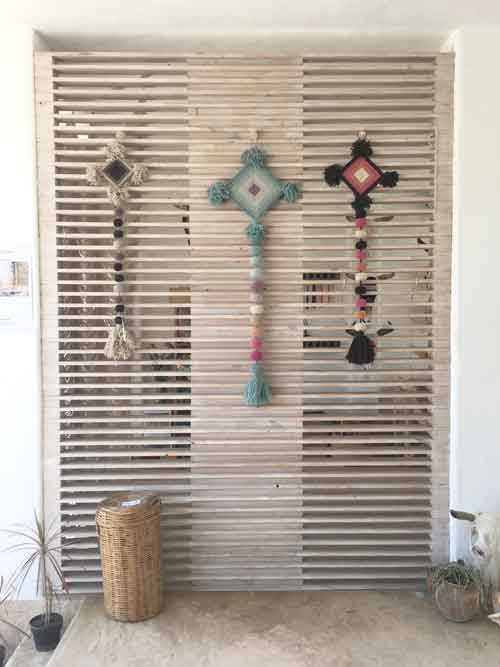 Evoke The Spirit–  Jose Mariscal 12 a. Having amassed a cult following on Instagram, Evoke is an earthy delight to see in person, leaving me breathless and wanting everything. Owner, ex-pat Brittney Borjeson, reimagines traditional Mexican textiles, pottery and jewelry in collaboration with native Mexican artists. Hand spun, dyed and woven wool carpets, mats and pillows with traditional Mexican geometric patterns; whispy blankets and throws; delicate beaded jewelry in golds, blacks and turquoise in the image of the powerful thunderbird. Their standout is the modern and bright yarn-painted cattle skulls that take their cue in design from the native Huichol tribe. The designs are simple but poignant and remind me of the work of American artist Georgia O'Keeffe. A second location near the beach offers pompom and macramé workshops.
Manyana–   Marlin 18-8 (across from Tacos Naty) Wait, am I in the Hamptons? Because this minimally-designed shop makes me feel like I am. Yep, the owner told me his custom t's are for sale at Montauk's trendy Surf Lodge. Architectural vases, surf boards, art books, swim trunks (from Australia brand TCSS, The Critical Slide Society) and lots of made in Mexico textiles. Just cool shit, trust me on this.
ETCETERA:
To see more of magical Sayulita, click here.